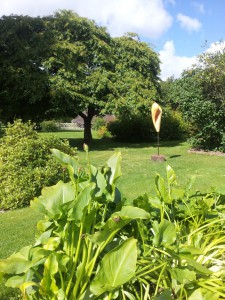 – Sold –
Calla Hepworthia
Cypress wood, appr 90cm high (appr 170cm incl rod and base)
Inspired by the calla lily and by the work of sculptor Barbara Hepworth.
Here she is in situ in the "Sculpture in context 2015" exhibition in Botanic Gardens, Dublin
(3 Sep – 16 Oct, 2015). The leaves in the foreground are the leaves of the calla lilies (not in bloom now).