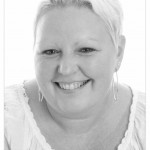 BIOGRAPHY
"Living and working in Dublin since 1998, Swedish born artist Lena Willryd feels the beauty of the Irish landscape has inspired her, and brought out a long dormant desire to express herself with paint. From spiritual and meditative inspiration, she creates tranquil and calm paintings, which brings a sense of peace to the viewer." – Irish Fine Art
Born in Sweden 1964 and growing up in Smålandsstenar, a small town in the South West of county Småland, the cultural variety was quite scarce, and though always aware of her artistic talent, she didn't fully open up to it until after moving to Ireland in 1998.
With no formal training Lena paints purely from intuition, transferring on to canvas an imprint of a memory, a short glimpse of a moment experienced, with the Irish landscape as her greatest inspiration; "Nature is full of little miracles and when its beauty makes me deeply moved I save this moment, and in my work I try to convey this feeling into colours. I find that these colours can really change one's mood or even the whole atmosphere in a room and if you look closely you will find there is much more in those paintings than just streaks of colour, it's like they take on a life of their own". 
After an inspirational visit to New York in the spring of 2008, Lena started a new series of paintings, hugely inspired by the late Jackson Pollock. These paintings are full of energy and movement, made by dripping and splashing the paint onto the canvas. "To paint like this gives me a sense of total freedom", she says.
In her latest work she plays with texture, tone, shape  building up layers upon layers of paint and using a variety of mixed media.
Her work can be found in private collections in Sweden, UK, The Netherlands, Canada, United States and Ireland, including the home of the former Irish Prime Minister (Taoiseach) Bertie Ahern.
**********************************************************************
PRESS RELEASE
Swedish artist presents art work to Ireland's Prime Minister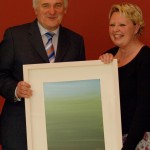 Presentation of the painting "Howth Cliffwalk" to former Taoiseach (Prime Minister) Mr Bertie Ahern, March 2008. Photo by Gordon O'Neill
Swedish born artist Lena Willryd presented Ireland's Prime Minister (Taoiseach) Mr Bertie Ahern with a painting to mark the occasion of his retirement from his post as Ireland's leader. The painting by Lena is of the scenic Howth Cliff Walk overlooking Dublin Bay.